Assisted Living at Locust Grove
Locust Grove Village offers the finest Assisted Living Facility in Rush County and the surrounding area. With beautiful furnishings, up-to-date technology, and a quiet country setting, we believe that we provide the ultimate in senior living options.
Our newly completed Assisted Living Facility has 14 apartments, including both studio and one bedroom options. Each room will accommodate up to two persons and is equipped with a kitchen area, microwave and refrigerator, plus a large closet and storage area. Our spacious bathrooms have a walk-in shower and large vanity area.
A beautiful, generous-sized courtyard is available for residents and families, with sitting areas, trees, and flowers to enhance this relaxing outdoor space.
Assisted Living staff members are designated as universal health care employees, providing assistance with activities of daily living, meal preparation, medication assistance, and other residence needs. Our services are tailored to meet the specific needs of each resident.
Three meals each day, served in the family room/dining area.
Assistance with Activities of Daily Living – Dressing, bathing (including a spa option), and medication monitoring, as determined by each resident's needs.
Emergency Call System – Call response units are located in the bedroom and bathroom. Personal pendants are also available.
Staff on site – 16 hours per day with support from attached nursing home personnel.
Telephone/internet service – Available in each room; resident pays separately for service.
Housekeeping and Laundry – Weekly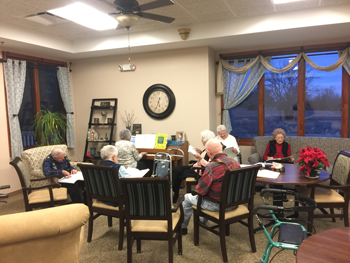 "I really like it here, it's like having a brand new house. The King & Queen of England don't have it any better than we do!"
To learn more about us, please download our 2 page brochure to  learn more (PDF) about our space and see a floor plan diagram (PDF).
Floor Plans
New Assisted Living Center