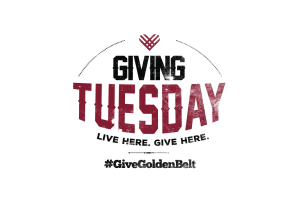 You've heard of Black Friday — Cyber Monday?? Now it's time for Giving Tuesday. An opportunity to give back to worthy projects through charitable giving.
Thanks to the generosity and foresight of Locust Grove Village donors, over the previous five Giving Tuesday events, $25,111 has been raised for our endowment fund with Golden Belt Community Foundation. This fund is very important to us as it now stands at $39,458.67. With continued growth the endowment fund becomes an important alternative and sustainable funding source, ensuring that high quality health care and retirement living are available for future generations in Rush County.
As Giving Tuesday approaches on November 27, we ask you to thoughtfully consider a gift to our endowment fund. Gifts made during the month of November will qualify for a proportional share of Golden Belt Community Foundations matching pool of $10,000.
This year donations may be mailed directly to Golden Belt Community Foundation any time, making your check payable to Golden Belt Community Foundation with Locust Grove Village written in the memo line. Online donations may be made at www.goldenbeltcf.org, designating LGV on the giving form.
In-person gifts may be made in Rush County, between 11:00 a.m. and 1:00 p.m. on November 27 at E-Z Mart 1409 Main in La Crosse.
A Giving form is included, or available online at www.goldenbeltcf.org or www.locustgrovevillage.com. If you need assistance in any way, please contact me.
Your investment in our endowment fund and our future has an impact on many generations of those who live in Rush County. Thank you for your consideration.